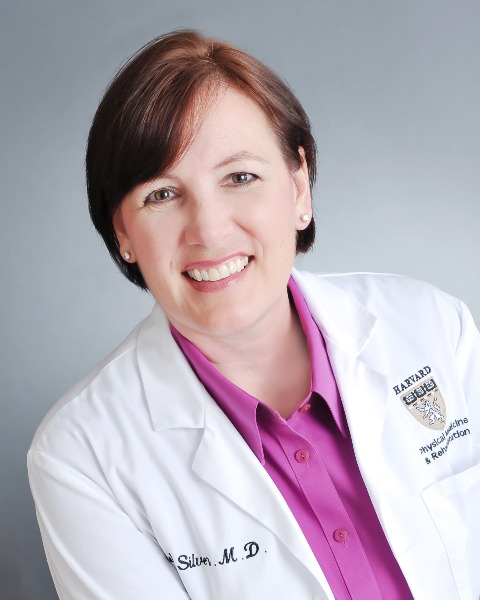 Julie Silver, MD
Associate Professor & Associate Chair
Department of Physical Medicine & Rehabilitation, Harvard Medical School
Julie K. Silver, MD is an Associate Professor and Associate Chair in the Department of Physical Medicine and Rehabilitation at Harvard Medical School. Dr. Silver has held numerous leadership positions and is a former start-up company founder. She was named the Top Innovator in Medicine in 2012 by The Boston Globe, and the same year her start-up company was listed by Bloomberg/Businessweek as one of the most promising social enterprise companies.

Dr. Silver directs two highly acclaimed annual CME course at Harvard Medical School:
Writing, Publishing and Social Media for Healthcare Professionals
https://wps.hmscme.com/
Career Advancement and Leadership Skills for Women in Healthcare https://womensleadership.hmscme.com/

These courses have trained thousands of physicians and other healthcare leaders throughout the U.S. and internationally.

Dr. Silver's work has focused on cancer rehabilitation, workforce diversity and inclusion, and physician burnout—often intersecting with innovation and implementation science. She is an expert in physician workforce equity and has published groundbreaking research on the underrepresentation of women physicians by their own medical societies. Dr. Silver has led numerous high impact strategic initiatives such as #SocietiesAsAllies, #WallsDoTalk and #QuoteHer. #QuoteHer was featured in the prestigious Columbia Journalism Review.

Recently, Dr. Silver organized a group of women physician leaders throughout the U.S. who are focusing on workforce gender equity. This group is called PROWD (#PROWD and @PROWDWomen) which stands for Promoting and Respecting Our Women Doctors. They are strategically focused on several specific initiatives aimed at accelerating workforce gender equity.

Dr. Silver's work has been featured in media outlets including The New York Times, The Wall Street Journal, The Washington Post, The Boston Globe, The London Times and NPR. She has also appeared on numerous TV shows including the CBS Early Show, The Today Show, Fox News and ABC News.


Presentation(s):
Friday, April 26
6:00 PM – 7:30 PM